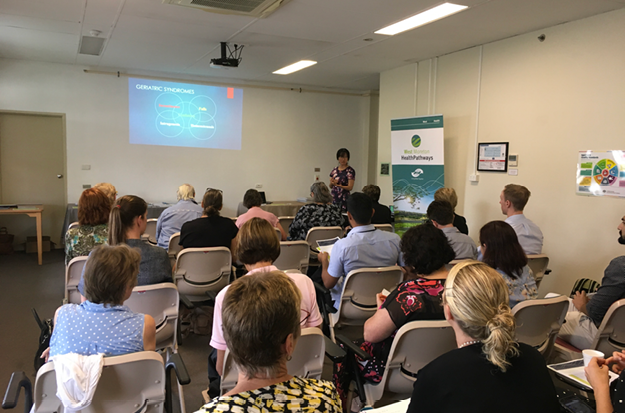 First Aged Care Collaborative Forum in West Moreton
February 21, 2020
Over 30 health professionals from the West Moreton region attended the first Aged Care Collaboration Forum on Monday, 10 February 2020. A partnership project between the PHN and West Moreton Health's Residential Aged Care Acute Support Services (RaSS), the Forum was the first of four that will be hosted in 2020 to provide an informative platform that focuses on geriatric and aged care addressing areas of concern and providing improvements for older people's care in West Moreton.
The recent Forum was structured around the topic of Detecting acute deterioration in older people. Discussions were held about intricate residential aged care facility (RACF) pathways, key health indicators, chronic disease, delirium vs dementia, triaging appropriately, emergency department pathways, standardised referral forms and underdiagnosing.
Guest speakers from West Moreton Health included Melinda Parcel - Executive Director Community and Rural, Dr Geoff Mitchell, Dr Dennis McCarthy - Emergency department, Dr Lu Chen - Staff Specialist Geriatrics and Ryan Lindenmayer - Clinical Nurse Consultant.
The Forum also touched on when to refer to a GP, how important teamwork and communication is, delirium being a medical emergency, the critical relationship between primary and secondary care, and the services that are available within the West Moreton Catchment to provide care for RACF patients in their location of choice.
It was also an opportunity for the PHN and RaSS to highlight health services that are available for GPs to refer older people to – many of which can be searched on our interactive services map and health pathways.
The next Aged Care Collaborative Forum is tentatively booked for May and all clinical managers, staff and GPs are encouraged to attend this free event. Once the Forum's topic has been confirmed we will inform you via the events calendar on our website.
If you would like to be involved at the next Forum please contact Ryan Lindenmayer - Ryan.Lindenmayer@health.qld.gov.au