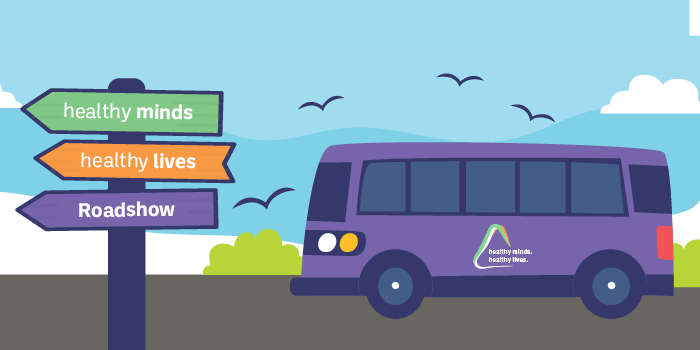 Healthy Minds, Healthy Lives to hit the road
August 31, 2023
Darling Downs and West Moreton PHN, Darling Downs Health and West Moreton Health have collaborated closely to refresh and refocus our joint Regional Mental Health, Suicide Prevention and Alcohol and Other Drug Plan - Healthy Minds, Healthy Lives (HMHL). We are delighted to invite you to join us on our roadshow to hear about the important strategies and actions within the plans, as well as meet and network with your peers across the sector.
HMHL continues the development and implementation of our previous plans, to ensure that all people living with a mental health condition and alcohol and other drug use in our region can access effective and appropriate treatment. It provides a shared vision and approach, setting our collective goals and aspirations for making a difference for people living with mental health conditions and alcohol and other drug use and their families.
Following-on from the success of our regional Meet-and-Greets earlier in 2023, the HMHL Executive Committed identified an opportunity to re-launch HMHL through a regional Roadshow. Coinciding with Mental Health Week in October, the Roadshow will be funded and delivered in partnership between Darling Downs and West Moreton PHN, Darling Downs Health, and West Moreton Health.
This partnership was fortified through the implementation of this strategy which better encapsulates the local health context, and a significantly increased capacity to demonstrate effective joint regional governance as a HMHL Executive Committee.
Roadshow events will take place in localities across the region, specifically, Goondiwindi, Stanthorpe, Warwick, Chinchilla, Dalby, Toowoomba, Boonah, Ipswich, Kingaroy, Gatton, and Esk. Each event will highlight the importance and impact of collaborative services through a localised lens, and insights from guest speakers with a lived/living experience.
We welcome all stakeholders across the sector, including people with lived and living experience. You are more than welcome to attend more than one event – click here to RSVP.