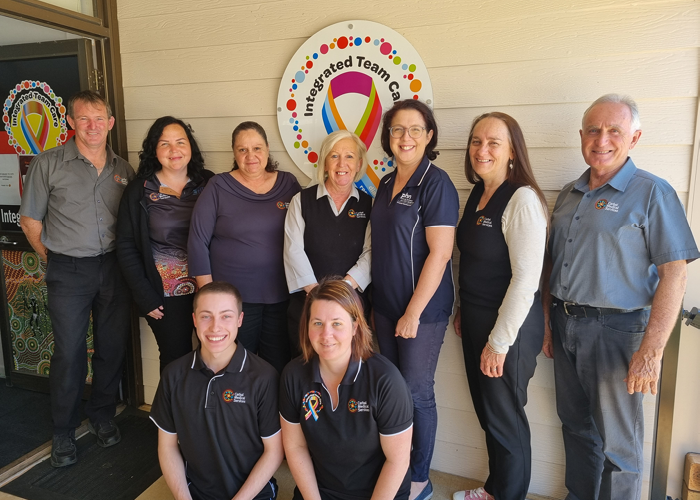 Integrated team care program provides care that matters
September 30, 2021
It takes a big heart to work in integrated team care (ITC) and the team at Carbal Medical Services are in no way short of support and heart to help their patients manage and get back on top of their health.
The (ITC) Program improves access to primary health care services for Aboriginal and Torres Strait Islander peoples across the region. Carbal are one of many Aboriginal and Torres Strait Islander medical services in our region that wear their heart on their sleeves helping their patients with health care coordination, supplementary services, transport services, medical aids, affordable medicines access and a network connecting patients to a wider array of community services.
Manager of the Carbal ITC Program, Deslea Cooper recalls when she was a program coordinator and shares a special moment with one of her patients.
"We had a 29-year-old patient who had been in Brisbane for treatments, she was from Roma and had four little children who she hadn't seen in three months. She had diabetes, was also on dialysis and was an amputee. She wanted to get home but had no means of travel and the only way to get her home was by air.
"We looked to Angel Flights who are an all-volunteer service where we had two lovely pilots fly us to Roma in their small propeller plane. There were a few challenges to overcome one of which was getting the patient into the plan as there was wheelchair access, it took some maneuvering. This was also her first time flying and she was very nervous.

"When Roma was in view, she started crying it had been so long since she had seen her children and her family. Then I started crying and even one of the pilots started crying it was a very touching moment. When we landed you could see her young children running to the plane with tears in their eyes. Her whole family was waiting to meet us, they had prepared signs and a big lunch to welcome her home, it was a very special moment that I feel grateful to be apart of.
"The sad news was that after 12 months she passed, but I knew she was happy and content as she was with family and at the end of the day that's all that really mattered to her."
The ITC Program has supported thousands of Aboriginal and Torres Strait Islander peoples in the last financial year. From 2020 to 2021:
29,665 care coordination services were delivered
15,903 supplementary services were delivered
12,083 transport services were delivered
13,957 clinical services were delivered
The ITC Program is funded by Darling Downs and West Moreton PHN providers and in our region are Carbal Health Services, CRAICCHS -Cherbourg Regional Aboriginal and Islander Community Controlled Health Services, Goondir Health Services, HealthWISE and IUIH through a partnership with Kambu Health Services and Brisbane North PHN.