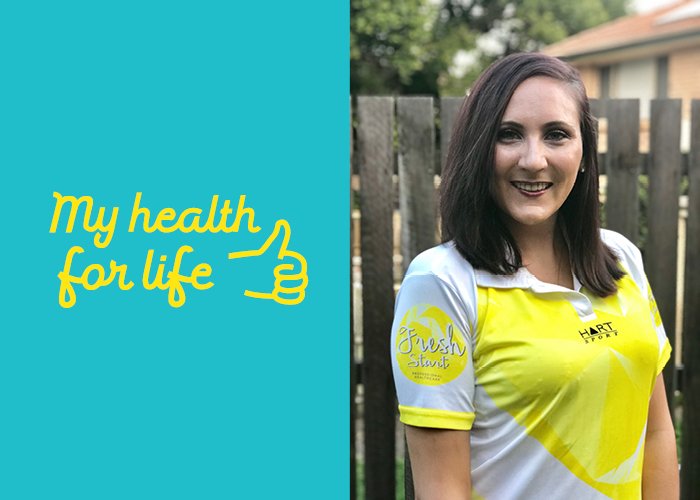 My Health For Life Provider Profile - Fresh Start Professional Healthcare
April 30, 2019
Communities across the Darling Downs and West Moreton region continue to see positive results due to the healthy lifestyle program, My health for life.

My health for life is a six-month program where participants learn practical ways to improve their health and reduce their risk of developing chronic disease.
Individuals can choose to participate in groups in their local community or complete the program via telephone.
For regional communities Gatton and Laidley located in the Lockyer Valley region, the program is delivered by Fresh Start Professional Healthcare, led by Bree Sauer.
Bree is an active member of the Lockyer Valley community, who outside of her own business, volunteers as the coordinator for the Lockyer Valley Mental Health Professionals Network (MHPN) and sits on the Darling Downs and West Moreton PHN's West Moreton Community Advisory Committee.
Bree is passionate about providing preventative care and improving the health and wellbeing of people within her community living with chronic conditions.
"We commenced My health for life in Gatton and Laidley last year and it has been truly astonishing to see how it has aided and changed so many people's lives," says Bree.
"The participants and the support people they bring to each session learn and implement healthier lifestyle choices, which not only helps transform their lives but it can also have a positive effect on those around them".
"At Fresh Start Professional Healthcare we believe that every day can be a fresh start or a new beginning and that seems to be the case for many people who have participated in this program."
Bree says that the most enjoyable session by far for most participants has been Session 4 which is an interactive experience for participants focused on healthy eating.
"After each session, participants leave knowing so much more about how to live a healthier lifestyle. Not only does My health for life explore healthy eating and physical activity, it also draws on how to cope well and manage stress, setting goals, planning for success, understanding risk and chronic disease, and adjusting for change."
Fresh Start Professional Healthcare is one of nine Providers in the area that Darling Downs and West Moreton PHN supports across the region to facilitate the My health for life program.
To find out more about My health for life program, eligibility requirements and providers offering the program across our region, click here.
My health for life is a Queensland Government funded program, designed and delivered by The Healthier Queensland Alliance.