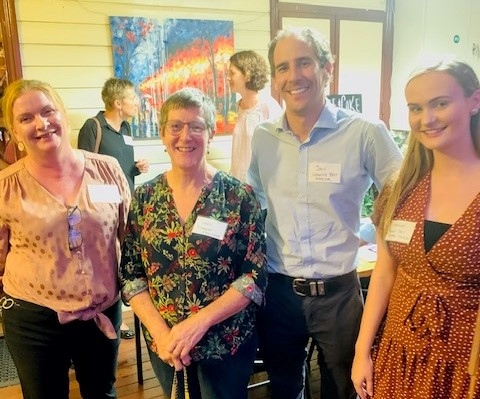 Opening dialogue with local GPs to improve primary healthcare
April 29, 2022
The PHN has re-established its local face to face GP meetings throughout the Darling Downs and West Moreton region, after many were postponed due to COVID-19 restrictions.
These meetings provide a forum for local GPs to voice their opinions, share concerns, collaborate on ideas and build their professional networks. Originally developed to bring together the local health community, these meetings have evolved into quarterly get together where discussions happen over a light breakfast, lunch or dinner.
The meeting provides an opportunity for PHN commissioned services to highlight the work they undertake to support healthcare throughout their community. Representatives are also invited from health and hospital services and residential aged care facilities to share their updates with local GPs.
Meetings have already been held in Kingaroy and Murgon where discussions highlighted a local need for general practices to continue to improve their preparations for future disasters and emergencies. Senior Leadership Team members from the PHN always attend to ensure messages from local healthcare professionals are not lost in translation.
"Understanding local health workforce needs by discussing and identifying barriers and potential solutions helps us to provide more effective support to primary healthcare throughout the region," said Lucille Chalmers, CEO Darling Downs and West Moreton PHN.
"These meetings promote engagement with local communities by fostering an open dialogue between the PHN and local GPs. Its an opportunity to highlight available services and supports."
The PHN presented its emergency alert campaign at the recent GP meetings and is continuing to provide further support that improves the continuity of care during disasters and emergencies.
Upcoming local meetings are scheduled for Dalby, Warwick and Stanthorpe throughout May and June. GPs are encouraged to contact their Primary Care Liaison Officer if they wish to attend any upcoming meetings.