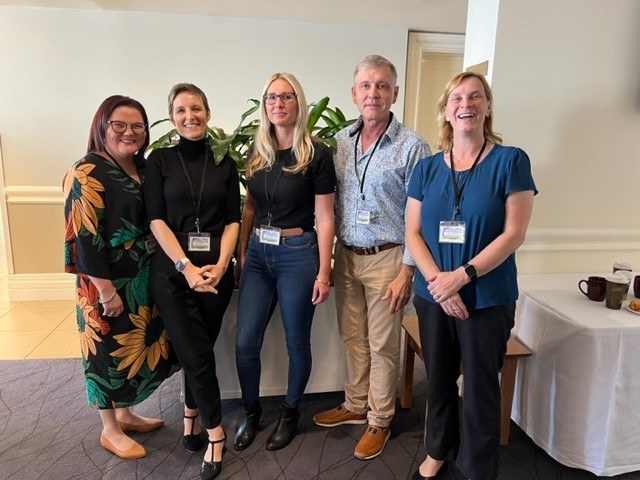 PHN showcases Healthy Minds Healthy Lives
September 29, 2023
In September, members of Darling Downs and West Moreton PHN's Mental Health and Commissioning team attended the 2023 PHN Commissioning Showcase in Newcastle.
The Showcase has been an annual event on the PHN calendar, allowing PHNs from across the country to come together to learn and share their commissioning experiences.
This year, the Showcase's focus was momentum – accelerating outcomes and equity through commissioning, covering the four themes of:
System Reform and Leadership
Commissioning with Partners
Value-Based Commissioning
Streamlining PHN Commissioning.
Darling Downs and West Moreton PHN's Director – Mental Health, Kimberley Lloyd-Jones, delivered a presentation on the joint regional comprehensive Mental Health, Suicide Prevention, Alcohol and Other Drug Plan, Healthy Minds Healthy Lives.
Kimberley discussed the plan's vision of making a difference for people living with mental health conditions and alcohol and other drug use and improving their mental health, physical health, and wellbeing.
She also outlined the extensive consultation that was undertaken with a range of stakeholders, and the strong partnerships of collaboration developed between the PHN, Darling Downs Health, and West Moreton Health.
The Mental Health and Commissioning team reflected positively on the connections that were made, the ideas that were shared, and the conversations that were started.
Darling Downs and West Moreton PHN welcome all stakeholders across the sector, including people with lived and living experience, to our upcoming Healthy Minds Healthy Lives roadshow events.
The roadshow will be an opportunity to hear about the important strategies and actions within the plans, as well as meet and network with your peers across the sector.
The roadshow starts Tuesday, 3 October in Goondiwindi, making its way through 12 locations in the Darling Downs and West Moreton regions, finish on Tuesday, 31 October in Kalbar.
Click here to view roadshow dates and book your spot!