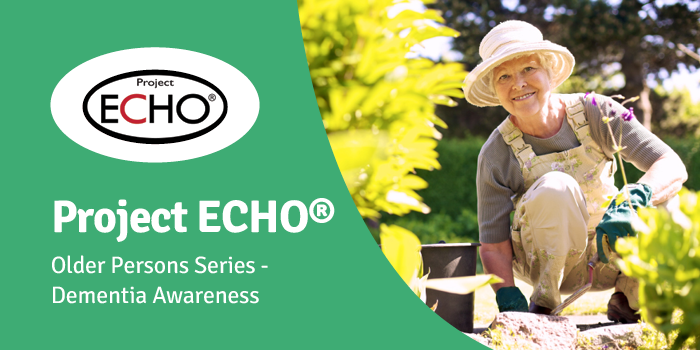 Project ECHO Older Persons series continues with dementia awareness
August 31, 2023
Darling Downs and West Moreton PHN in collaboration with West Moreton Health and Darling Downs Health invite you to join the Project ECHO® Older Persons Series in 2023. This exciting opportunity is open to all health professionals in the West Moreton and Darling Downs region caring for older persons in any capacity.
This series is being delivered as part of our commitment to aligning the health system to older persons with the assurance of a positive, sustainable, and appropriately trained health workforce, as outlined in the 'Feel Well, Live Well', Older Persons' Health and Wellbeing Strategy 2021-2026.
Project ECHO® (Extension for Community Healthcare Outcomes) is a collaborative knowledge- sharing model designed to create a 'learning loop' between health professionals via Microsoft Teams, with the aim of increasing knowledge and access to health care in local communities and bringing care closer to home.
After a successful series on Navigating the My Aged Care System, the PHN and West Moreton Health is excited to announce registration is now open for the new 7-part ECHO Older Persons Series, Dementia Awareness commencing September 12th, 2023.
The upcoming Older Persons Series will investigate the dementia types, behavioural triggers, enabling environments, and much more.
Health professionals can count participation in the ECHO Older Persons Series sessions towards CPD hours with a written reflection on your learnings.
Click here to register for Project ECHO.