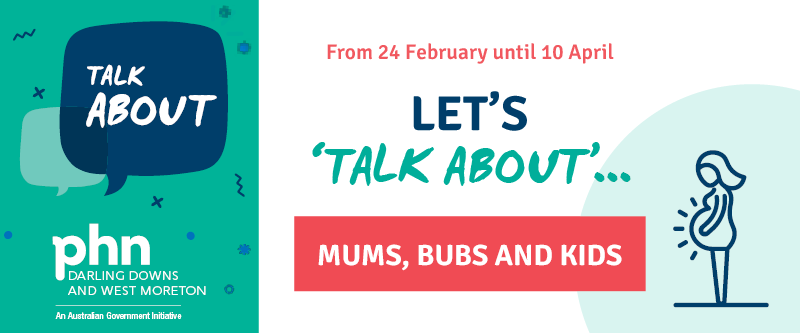 'TALK ABOUT' – Improving health services for mums, bubs and kids in our region
March 31, 2020
Listening to communities is one of the best ways we can identify what currently works well and what could be done better in terms of health care in our communities.
For our PHN, this is where 'TALK ABOUT' comes in.
Every three months, we will ask for your feedback on a particular topic about health care in your community via a short online survey which will be open for 6 weeks. We're looking for responses from community members, carers and health professionals to provide their thoughts and experiences.
Our first topic kicked off in February 2020 focused on mums, bubs and kids services. We still need your help on this topic – the survey doesn't close until Friday, 10 April 2020 – so you still have time to provide your valuable feedback.
Here's a few stats about our region for you:
7500 babies born in our region (Darling Downs and West Moreton)
Many parents are safeguarding their children from preventable diseases with 95% of children under fivefully immunised.
We also know that 99% of children are actively attending a kindergarten.
What we want to know more about are any barriers that there may be to your accessing the mums, bubs and kids services that you need. We also want to know more about the things that are working well so that we can ensure these services/programs can continue to thrive.
'TALK ABOUT' is your chance to contribute to the future of health care in your local community. You may also highlight an outstanding service or program that other parents would benefit from knowing about.
The feedback you provide will help us with forward planning for future services in your region and contribute to our Health Need Assessment (HNA) document. The HNA is our guiding document that helps us to understand what primary health care services (those that are delivered outside of a hospital setting) are needed the most in our communities.
To ensure your confidentiality is maintained, we do not collect your name, emails address or any other identifying information.
Click on the button below and 'TALK ABOUT' your experience with mums, bubs and kids services today.
The mums, bubs and kids topic will close Friday, April 10 2020.