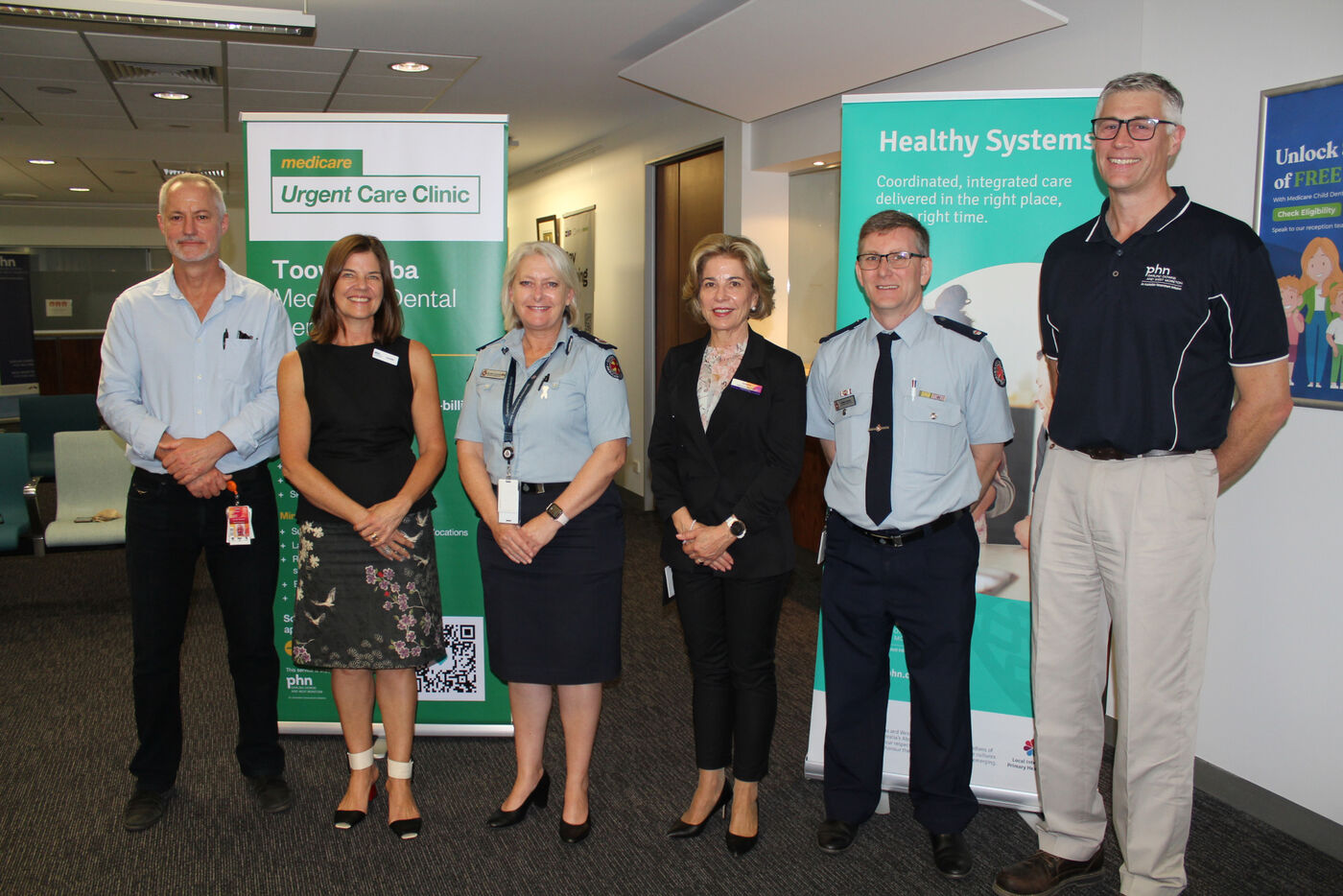 MEDIA RELEASE: Urgent care clinic opens in Toowoomba
October 23, 2023
Darling Downs and West Moreton PHN is delighted to announce the opening of the Toowoomba Medicare Urgent Care Clinic today, Monday 23 October, conveniently located within Toowoomba Medical and Dental Centre.
Part of the Australian Government's national Medicare Urgent Care Clinic program, the Toowoomba Medicare UCC is jointly funded by the Commonwealth and Queensland State Government and is conveniently located close to the grounds of the Toowoomba Hospital.
Toowoomba Medicare UCC will provide free, urgent treatment for conditions that aren't life threatening. It is for when you need time-sensitive care and can't see your GP, but you don't need to go to the emergency department.
Patients will be bulk-billed and able to walk in to use the service at Toowoomba Medical and Dental Centre during extended hours, 7 days a week, including on public holidays. Any diagnostic services, such as radiology and pathology, will also be provided with no out of pocket fees to the patient.
Patients can walk in and self-refer or be referred by a GP, hospital emergency department, 13 HEALTH or Queensland Ambulance Service. The clinic operates from 7am to 10pm on weekdays, and 8am to 10pm on weekends and public holidays.
Queensland Health Minister, the Hon Shannon Fentiman MP, said the State Government was pleased to support this important initiative, providing the Toowoomba region with similar urgent care facilities to those that had recently opened in Ipswich Medicare UCC and the Morayfield Minor Accident and Illness Centre.
"The Medicare UCC will treat urgent injuries and illnesses such as minor infections, fractures and sports injuries, minor cuts and abrasions, insect bites, rashes, and respiratory conditions like fevers and coughs," Ms Fentiman said.
"It is important to note that people who have major trauma or complex conditions should continue to go to the hospital emergency department.
"Where needed, there will be a warm handover to the local emergency department for medical issues that require a higher level of care and a discharge summary will be issued to the usual GP of patients who attend the Medicare UCC."
Federal Minister for Health and Ageing, The Hon Mark Butler, said the urgent care clinics played an important role in supporting primary care and keeping emergency for emergencies.
"We've worked closely with the Queensland Government to deliver 11 Medicare Urgent Care Clinics across the State, making sure locals can get the urgent care they need without spending hours in a hospital waiting room.
"The Medicare UCC is not a substitute for a patient's usual doctor, who should continue to be the first point of contact for non-emergency, routine or preventative health care. In the case of an emergency, Triple Zero (000) remains the best point of contact.
The selection and establishment of the Toowoomba Medicare UCC involves close collaboration between the PHN and Darling Downs Health, with the integration of the Medicare UCC and the Emergency Department at Toowoomba Hospital a critical part of how it will operate.
Darling Downs and West Moreton PHN CEO Lucille Chalmers said that Medicare UCCs are about increasing access to immediate medical services in our community and avoiding unnecessary trips to the hospital.
"In selecting Toowoomba Medical and Dental as the service provider for the Medicare UCC, we considered things like accessibility of the location, availability of GP services and the close proximity to the hospital," said Ms Chalmers.
"The Toowoomba Medicare UCC is less than ten minutes' walk from the hospital ED and has a provider who already has an understanding of and experience in providing for the health needs in our area."
Darling Downs Health Chief Executive, Annette Scott PSM said it's a significant achievement to have an Urgent Care Clinic opening in Toowoomba.
"For residents to be able to access another quality and free healthcare model is a big win for the Toowoomba community," said Ms Scott.
"The Medicare UCC will help ease demand on our already busy emergency department as we continue to see an increase in complex and life-threatening conditions."
The Medicare UCC program is supported by funding from Darling Downs West Moreton Primary Health Network through the Australian Government's PHN Program.